HIIT It Out Of The Park Online Webinar - Nov 20, 2021
Virtual Online Webinar From The Comfort Of Your Home!
saturday, nov 20, 2021
Virtual Event Time:

Please note the start time based on YOUR timezone:

6 - 8 AM PST (BC)

7 - 9 AM MST (AB)

8 - 10 AM - CST (SK/MB)

9 - 11 AM EST (ON/QC)
10 - 12:00 pm - ATL (NB)
Live Virtual Streaming Event: From the comfort of your home
You will receive an important follow-up email containing your unique log-in/access to attend your LIVE STREAM experience
If you are paying for someone else:
Please provide their full name, address, phone and email in the "Ship To" Section at checkout.
Workshop Description
hiit it out of the park

Prepare to be taken to the limit in this boot camp session and shift your workout into overdrive!  See HIIT training in a new light with different timing protocols – 20/10, 30/20/10, 30-20-10.  Walk away with new exercises using the gliding discs and resistance bands that will peak maximum performance, no matter what your fitness level.  Give ALL your clients variety, inspiration, and challenge them to be their best - guaranteed to get your clients sweating and asking for more. 
Dylan Harries - Master Trainer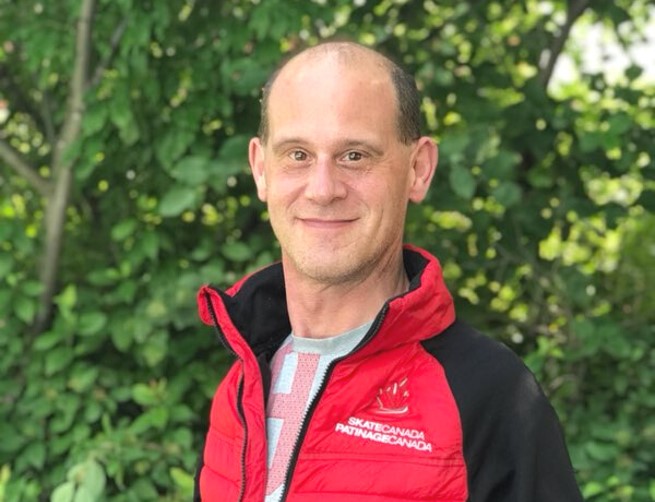 Dylan T. Harries -  - Master Trainer for FMG
Dylan is a former 4-time Canadian Artistic Roller Skating Champion. He travels the world educating and inspiring fitness leaders and athletes with his passion, high energy, sound technique and wild creativity.
With 28 years of professional experience, Dylan is the Senior Director for Body Rock Fitness International and the Health & Fitness Coordinator at Dovercourt Recreation Centre. In his spare time, he is a renowned athletic trainer and performance coach to national and international level figure and roller skaters (Canada, USA, Germany, Italy and Great Britain). He is Canfitpro (PTS/FIS), CALA (Master Trainer all streams), Pilates (YMCA), Barre Above (Master Trainer), Tabata GX (Master Trainer),SPI (Level 2), YMCA (all streams), Bender Ball (Master Trainer), Spinning (Star 2), TRX (Level 1), Hydrorider (Canadian Master Trainer), Balletone (Trainer), Extreme HIIT Chaos (Trainer), Bosu Balance Trainer (Instructor), AEA (Aqua Yoga/ Hydrorevolution) and NCCP (Level 2 – Inline and Roller) certified.
[B. Rec; B.Sc. (HK); C.A.T; CSCC)]
Equipment Options
| | |
| --- | --- |
| Equipment | Modification |
| 5 Foot Resistance Band | Pantyhose, leggings |
| Gliding Discs | Paper plates, pot holder |
Continuing Education Credits
Canadian CEC's for Live Virtual Webinars Events

canfitpro 1 FIS, 1 HWL, 1 PTS
AFLCA 2

Course Materials
You will be provided with a Zoom link a few days prior to the event

Cancellation Policy - Live Stream Webinars
CANCELLATION POLICY - LIVE ONLINE WEBINARS (LIVE STREAM)

All cancellations must be received in writing, email, fax or letter
There are no refunds for Online Webinars


If you are unable to attend:

you will be provided with a recording of the training for a limited time