Tabata GX Online Webinar - April 25, 2021
Earlybird Discount
2020-11-23
2021-04-19
Virtual Live Web Training Event - Stream From Home!
SUNDAY, APRIL 25, 2021
Time: Please note the start time based on YOUR timezone:
7 AM - 2 PM PST

8 AM - 3 PM - MST

9 AM - 4 PM - CST

10 AM - 5 PM EST

11 AM - 6 PM ATL
Live Virtual Streaming Event: From the comfort of your home
You will receive an important follow-up email containing your unique log-in/access to attend your LIVE STREAM experience
All Virtual Event attendees will be shipped a free pair of Gliding Discs and Bender Ball (a combined $45 value!)

Shipping to Canadian residents only
Remember to register early enough to allow adequate time for your training materials to be shipped to your home
Curriculum
You'll Discover
The "WHY" and "HOW" of effective HIIT training.
How to structure 30-min, 45-min, and 60-min classes for all fitness levels.
The correct amount of work to rest in order to achieve maximum results that are achievable for anyone.
Key exercises to implement into a high-energy HIIT class, and how to pattern them efficiently.
How to correctly fuse games, challenges, and other collaborative facets into a workout, and when to do them.
The perfect balance of cardio and strength flow with creative rest sections that challenge balance, proprioception, memory, and skill development.
How to use motivational coaching and cueing so participants feel engaged, empowered, and successful.
Progressions and regressions for maximum success for every fitness level.
The 3 components that any group exercise needs to assure participants want to return again and again.
The key traits that take a good instructor to GREAT.
You WILL Learn How To
Incorporate unique HIIT and Tabata GX timing options
Build a foundation for each exercise using proven progression and regression techniques
Create variety through movement and muscle activation options
Use all 3 planes of motion as well as the aerobic and anaerobic energy systems
Minimize overuse and injury
Provide opportunities for work and rest
Create a safe, fun and life changing experience
Laurie Idema-Wood - Tabata GX Master Trainer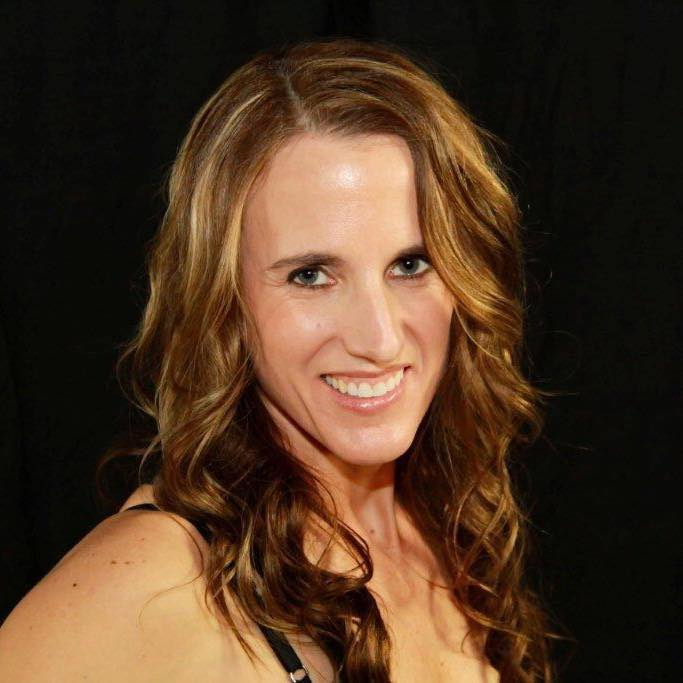 Laurie Idema-Wood - Master Trainer
Laurie has been teaching fitness since the 1980s and training instructors since the 1990s.  She has a Kinesiology and Massage Therapy Degree and is also a Certified Exercise Physiologist, Certified Strength and Conditioning Specialist, and Yoga Instructor. During the day, you can find Laurie at her small business Body Connections Fitness & Massage Therapy where she specializes in postoperative orthopedic rehabilitation.

During evenings and weekends, she partners with the community to offer various fitness classes and instructor trainings.  In her spare time, Laurie enjoys lifting weights, hiking and biking with her family.(B.P.A.S.)(C.S.E.P.-C.E.P.)(C.S.C.S.)(R.M.T.)(M.T.A.S.)
Registered Massage Therapist/ Exercise Therapist
Continuing Education Credits
Canadian CEC's for Live In Person Events
AFLCA 6, BCRPA 6, canfitpro 3 FIS, 3 HWL, 3 PTS, CFES 6, FNB 6, MFC 4, SPRA 4
Canadian CEC's for Live Virtual Webinars Events

AFLCA pending, BCRPA 6, canfitpro 3 FIS, 3 HWL, 3 PTS, CFES 6, FNB 6, MFC 4, SPRA 4
US CEC's
12.0 AFAA, 1.2 ACE, 1.2 NASM, 12.0 SCW
Course Materials
Print & Electronic Instructor Manual
Certificate of Completion
Instructor Web Account with initial workout choreography & educational videos
Opportunity for ongoing education
Exclusive discounts on equipment and apparel
Attendees will be shipped a Free Bender Ball and Pair of Gliding Discs
Cancellation Policy
CANCELLATION POLICY - LIVE ONLINE WEBINARS (LIVE STREAM)

All cancellations must be received in writing, email, fax or letter
There are no refunds for Online Webinars


If you are unable to attend:

you will be provided with a recording of the training for a limited time
you will be provided the opportunity to attend another training at a future date
UPON COMPLETION
Attendee is certified to teach Tabata GX™ classes upon completion of a Barre Above Training.
There are no monthly licensing fees or annual re-certification fees.